Class Organisation
Mrs C. Green (Class Teacher)
Mrs A. Macdonald (Teaching Assistant)
Mr J. Rose (P.E. Teacher - Tuesdays)
Mrs. J. Darke (Higher Level Teaching Assistant)
Our Weekly Timetable
Lesson 1
Lesson 2
Lesson 3
Lesson 4
Monday

Guided Reading

Maths

Spelling

English

Topic (Geography)

Topic
Tuesday

Guided Reading

Maths

Spelling

English

P.E.

R.E.
Wednesday

Guided Reading

French

Spelling

Music

Computing

Gardening (alternate weeks)

Maths

Thursday

Guided Reading

Maths

Spelling

English

Science

Science
Friday

Guided Reading

Maths

Spelling

English

Topic (Art)

Topic
Curriculum
This term we are learning about the Romans. Please click on the link below to find out about what we learning about.
Our Roman Homework Project
In our topic lessons we are learning about the Romans. We had homework projects to do at home. We had a few weeks to complete them and then presented them to the class.
Sophie made a Roman shield. She got some red paint, gold paint and cardboard. First she covered the cardboard with paper. Then she got some paper, scrunched it up and stuck it in the middle. She drew a design and finally she painted it.
Hetty made a mosaic. She got a piece of paper and drew the design she wanted. Next she got some coloured paper and scissors. She cut up the design and made some hands for the clock. Then she stuck her design on the coloured paper. Hetty also made some Roman bread and some jewellery.
by Hetty and Sophie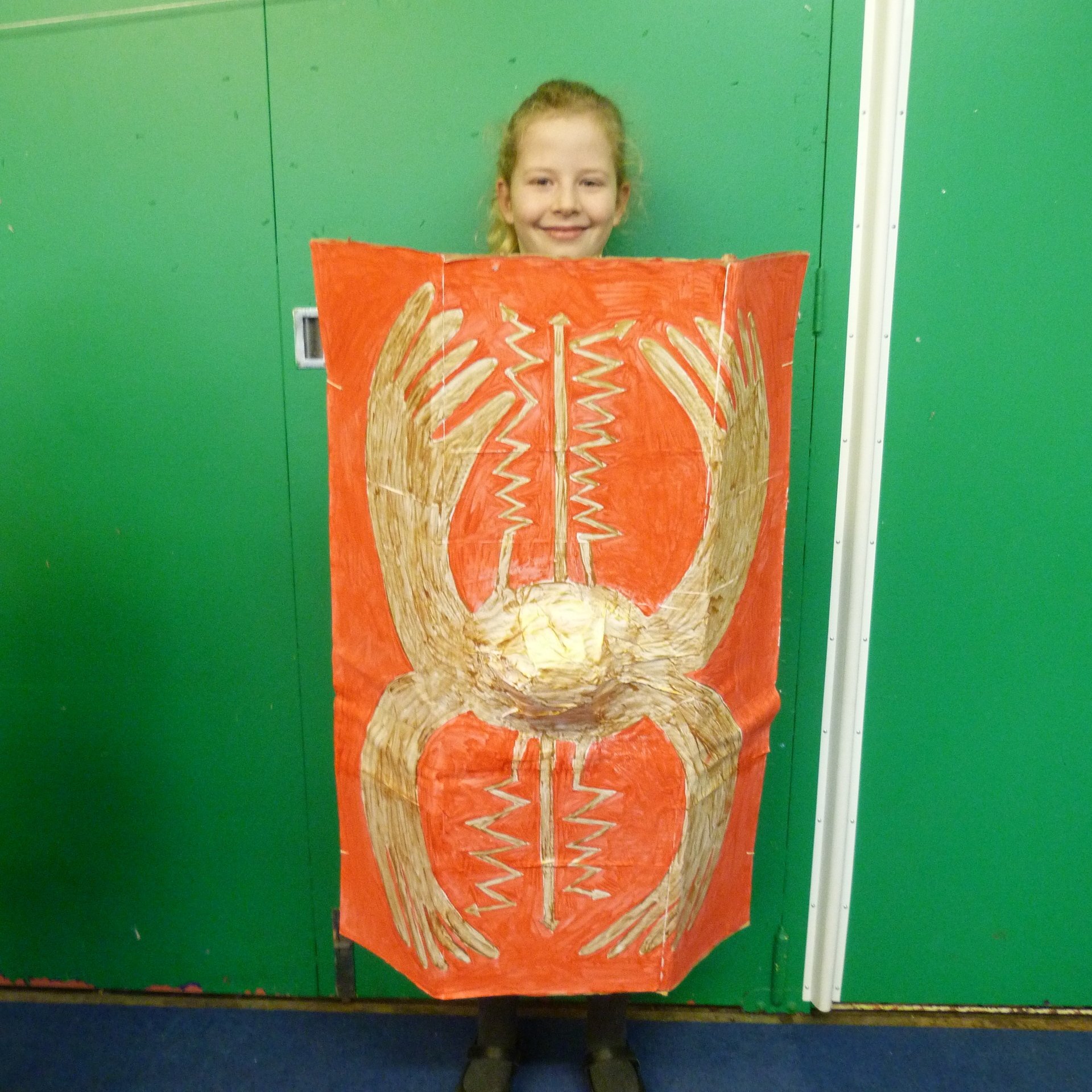 We have been learning about the Romans. For our homework we made something to do with the Romans. Lots of people made shields. In our English books we wrote our own Roman Myth. We have enjoyed learning about the Romans.
by Bella and Ava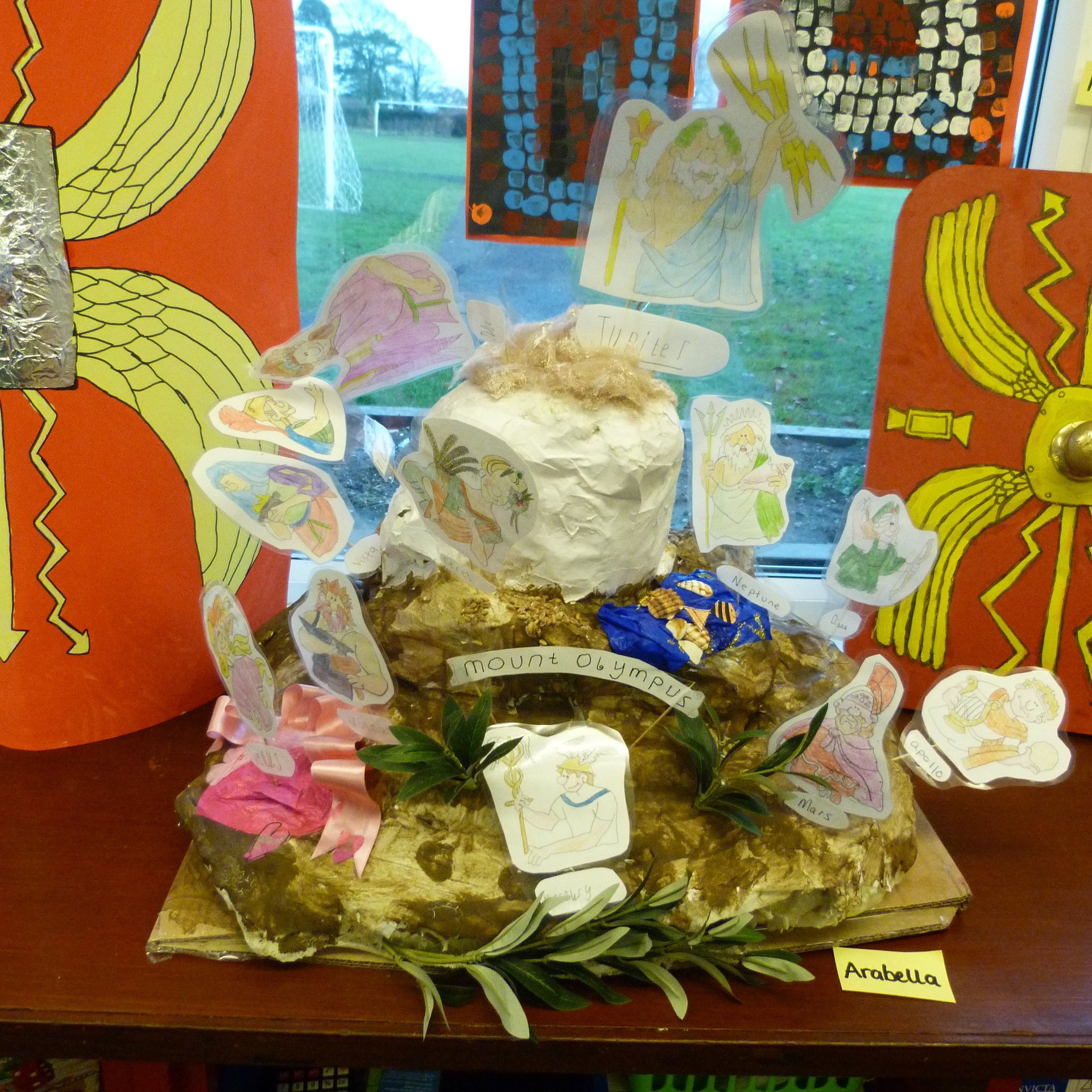 We had two weeks to complete our projects. It could be anything and in my opinion I loved it! For my project I made a fort commander's house. First I made the base and walls out of cardboard then I made the staircase and a bedroom on the second floor. After that I focused on painting it. Once the paint dried I made a oven for the kitchen and glued some beds. I collected lots of playmobile toys to add.
by Myriam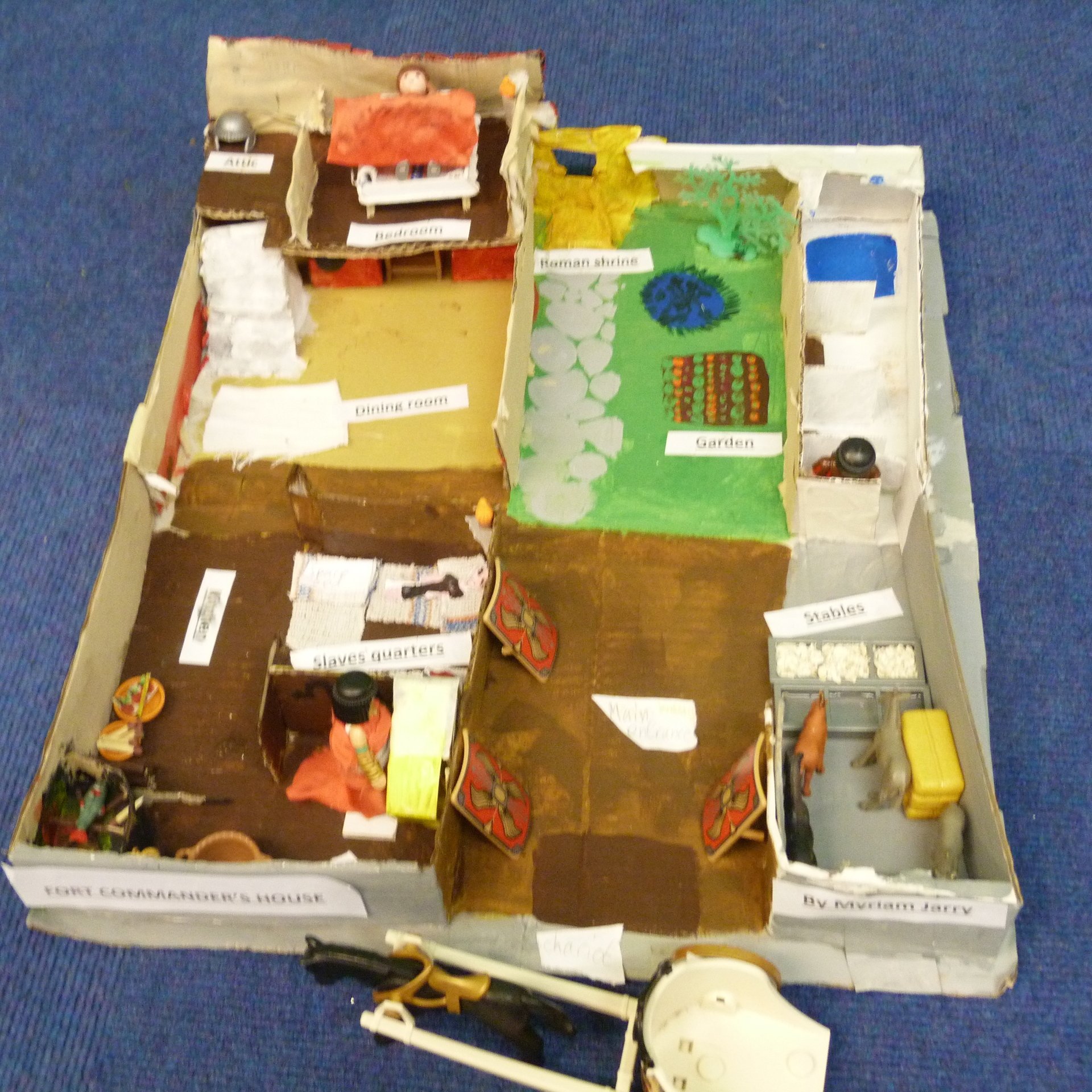 Remembrance Day 2019.
The children decorated a pebble with a symbol or picture which reminds them of the soldiers who fought during World War 1. These pebbles have been placed around school for visitors and other classes to find and think about what they symbolise.
Blackout Poetry
In class 3 we did some blackout poetry. First we took a poem written be someone else and we circled all the words we would like to use in our poems. Then we drew a picture on it. We coloured in the picture and blacked out the rest.
by Fern
Learning Links.
Maths
https://www.bbc.com/bitesize/levels/zbr9wmn
https://www.mathplayground.com/games.html
http://www.primarygames.com/math.php
https://www.topmarks.co.uk/maths-games/hit-the-button
English
https://www.topmarks.co.uk/english-games/7-11-years/punctuation
https://www.bbc.com/bitesize/levels/zbr9wmn
http://www.crickweb.co.uk/ks2literacy.html
Topic
www.purplemash.co.uk (login needed)
Home Learning.
Children are set weekly homework in line with our new homework policy. Homework is usually set on Wednesday and should be completed and handed in on the following Monday. Each week children will be expected to complete the following:
Read to an adult – this can be independent reading books from school, a book from home or a book from a library.
Learning times tables – when it comes to times tables speed and accuracy are important, Times Tables Rock Stars is a fun and challenging online programme designed to help children master their times tables. Each child in class 3 has their own Time Tables Rock Stars password.
English or maths task – this will be sent home in the children's homework book each week.
Children may also be asked to complete a project linked to the current class topic that they will present to their classmates. This will be set a few weeks in advance so that the children have time to research and prepare their projects.
Here are some pictures of our most recent homework projects about the Romans.